What is iTunes "grouping" tag for?
When tagging music in iTunes, I have often wondered what the "Grouping" column was for. I rarely, if ever, saw any data in this column after importing CD's, but it seemed like it would be useful to "group" music by some other criteria. After some digging in the AppleScript dictionary for iTunes I found the official use:
grouping (Unicode text) : the grouping (piece) of the track. Generally used to denote movements within a classical work.
Now a movement is a term given to a section of music within a larger piece of music, normally self-contained and separated by silence in any other genre that's a track or song. Most of my music is not classical and I guess that is the case for may others so the "Grouping" field goes unused.
The conclusion I came to was the tag could be used in a lot of different ways — movements within a classical composition were the intended use, but are probably not the most common. Some useful fields are missing form the current tags in iTunes (8.1.1) and the "Grouping" tag could be used for are Record Label, Parental Advisory (Explicit Lyrics), Sub Genre, Licence and so forth.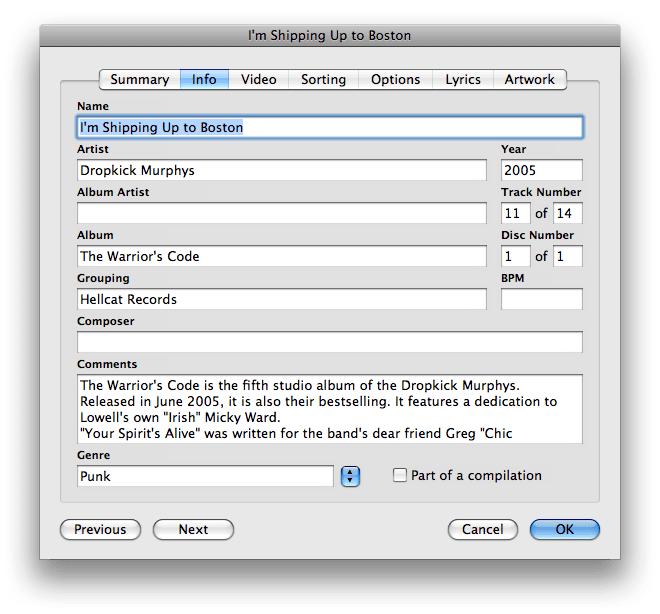 The above shows an example of the Get Info dialog box for the Dropkick Murphys track "I'm Shipping Up to Boston" in Apple iTunes 8.2.
What I settled on was to use the "Grouping" tag for the Record Label as this is something I would like to be able to sort music by at times. I am sure this is not the best solution for everyone and would discourage people from using the field incorrectly when adding tags to CD's uploaded to Gracenote for instance but it works for me and the way I use iTunes.
How do you use the 'Grouping' field? Let me know.
This article was posted on 05 June 2009 in Apple, Misc
What you have had to say about all this...
Thank you for this! I just noticed it—yeah, late to the party again—and I think I'll duplicate the artist info here so the damn shuffle will mix it up better. There really ought to be an Artist option in Shuffle, I think. Anyway, thank you for this.
- Missy
I use the Grouping field for metadata tags and have done for years. For example, I might tag one track "car,party,eighties,club" and then create Smart Playlists for specific occasions or locations. I've even created an AppleScript to batch-add the tags. :)
I would love another field for Record Label, since I am ripping my old dance records and being able to sort by record label would be really useful. It's a shame that after all this time, iTunes still doesn't allow for adding custom fields. :(
- Joe
Country. For those of us who listen to music from all over the world, we may put the artist's origin into the grouping tag, and make smart playlists such as "Non-english Rock" and "Japanese Music", since Ryuichi Sakamoto makes neither JPop nor J-Rock :)
Or, ever notice AMG Allmusic Guide describes albums by moods as well, in addition to genres? e.g. "bleak, gloomy, clinical, detached" for Radiohead's Kid A, "hostile, epic, fierce, suffocating" for Metallica's Master of Puppets? The grouping tag is where I put these musical moods. From there I can allow smart playlists pick music that's "confrontational, stylish, malevolent" for me. But really, the grouping tag is such a wild card that one should use it to their liking.
- Alex
That's the end of this article. I hope you found it useful. If you're enjoyed this article why don't you have a look around the archives, where you can find some more tutorials, tips and general ramblings.